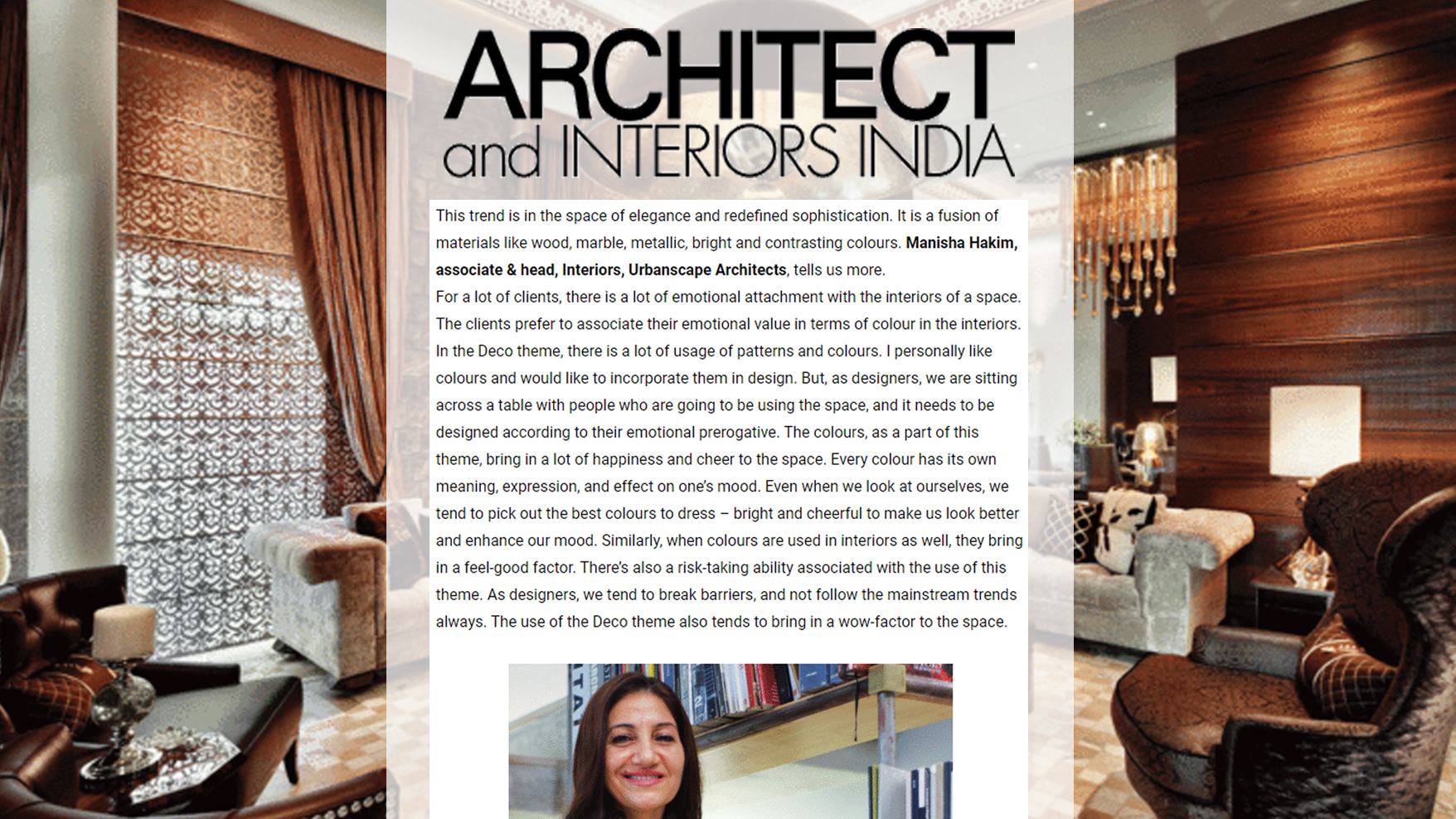 Architect & Interiors India Covers Urbanscape Architects
Name of publication: Architect & Interiors India
Project: Inputs on Deco-Décor theme: Manisha Hakim
Month & year: Published in February 2020
Link to publication: Architect and Interiors India
This trend is in the space of elegance and redefined sophistication. It is a fusion of materials like wood, marble, metallic, bright and contrasting colours. Manisha Hakim, associate & head, Interiors, Urbanscape Architects, tells us more.
For a lot of clients, there is a lot of emotional attachment with the interiors of a space. The clients prefer to associate their emotional value in terms of colour in the interiors. In the Deco theme, there is a lot of usage of patterns and colours. I personally like colours and would like to incorporate them in design. But, as designers, we are sitting across a table with people who are going to be using the space, and it needs to be designed according to their emotional prerogative. The colours, as a part of this theme, bring in a lot of happiness and cheer to the space. Every colour has its own meaning, expression, and effect on one's mood. Even when we look at ourselves, we tend to pick out the best colours to dress – bright and cheerful to make us look better and enhance our mood. Similarly, when colours are used in interiors as well, they bring in a feel-good factor. There's also a risk-taking ability associated with the use of this theme. As designers, we tend to break barriers, and not follow the mainstream trends always. The use of the Deco theme also tends to bring in a wow-factor to the space.
Project typologies such as residential, hospitality, and workspaces (depending on the work culture/ profession) can incorporate this theme. However, I would refrain from using it in institutional buildings. The design philosophy here is about breaking boundaries and creating an element of surprise. It is about bringing in more creativity and art into the interiors. Today, we have a lot of varied textures and colours in laminates. These can definitely be used on fixed furniture – such as tall cabinets, vanities, for panelling, and the like.